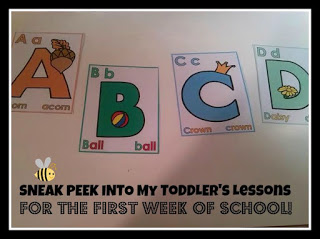 I have been busy planning for the first week of school for my oldest children, but I haven't forgotten about my toddler. In addition to learning how to use the potty, he will be very busy this year as well. At 2 years old, they are always ready to learn something new! Also, "toddler school" allows me to keep my littlest homeschooler busy while I am working with the older children. So, what does our first week of toddler school look like? Below, I give you a sneak peek.
First of all, my little man loves Paw Patrol from Nick Jr. So, I decided that his folder cover page would have his favorite characters on it! Next, our Letter of the Week is "D", so we will be going over the letter sound and words that begin with this letter. The activity that will go along with our phonics lesson will be completing a dog puzzle. I always cut out everything in advance in case my day gets too busy, and toddlers have short attention spans.
My son will also be practicing tracing the letter "D". Our nursery rhyme theme will be Jack and Jill. With the nursery rhymes, repetition is important. We will be saying this everyday, adding in hand claps for teaching rhythm. The first week will also include letter recognition. I have cut out flash cards (letters A-D). This will be something that we go over for the next few weeks until he can identify the letters.
In addition to the activities shown here, there will be a lot of singing, stories, and pretend play! Toddler school will be fun, and we are going to learn so much! For these activities and many others, visit www.first-school.ws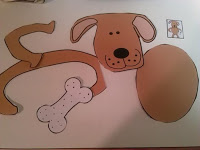 Make a dog puzzle!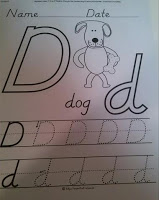 Tracing Practice!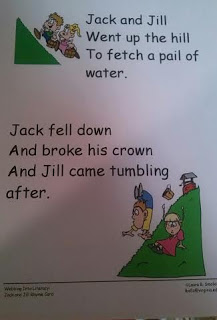 Jack and Jill Nursery Rhyme
ABC Flash Cards (A-D)